Small-lot agricultural food processing
We provide small-lot agricultural food processing!
Help Yamani Vinegar with Agricultural products processing!
●Manufactured by Yamani Vinegar, founded in 1887!
●Using fermentation technology since 1887!
●Have you given up on turning agricultural products into processed foods?
Small lot (100kg and up) can be manufactured!
● We can also help you with bottles, labels, and displays!
● Leave it to us for processing other than vinegar!
Guidance of 6th commissioned processing explanation booth exhibition
 We will be exhibiting at the consultation booth for agricultural food product processing at Ishikawa Shokai's "New Year Joint Exhibition", from January 24, 2020 (Friday) to January 26 (Sunday). We will accept proposals, explanations, and consultations for the 6th processing of agricultural products using our vinegar fermentation technology.Please feel free to visit us if you are interested.
Location: Asahi Sales Office, Ishikawa Shokai Co., Ltd.
   1389-1 Kamakazu, Asahi City, Chiba Prefecture
Period: January 24, 2020 (Fri) 25th (Sat) 26th (Sun)
Time: 9:00~16:30
 It will be held at Messe Wing Mie on January 17, 2020 (Friday) and 18th (Saturday).

The Iseki Kansai Chubu Co., Ltd. Tokai Branch

New Year Celebration Market in Mie

booth will accept inquiries and questions about agricultural food product processing. If you are interested in 6th processing using our fermentation technology, please come to Messe Wing Mie.
Date: January 17, 2020 (Fri) 18 (Sat) 9 am to 16 pm
Location: Messe Wing Mie 19-1 Kitagawajicho, Tsu City, Mie Prefecture
Agricultural products processing/OEM topics
Our approach to consignment processing of agricultural products for agricultural products was published in an article.

Mie Furusato Shimbun August 11, 2016
"Mr. Matsuoka, an intern, is active 
  Fruits and vegetables to Drinking Vinegar
    Recruiting farmers aiming for commercialization Yamani Vinegar"
An article was written about our approach to outsourced processing of agricultural products.

Mie Furusato Shimbun September 2, 2016
"Drinking Vinegar PR student struggle
  Work experience in Tsu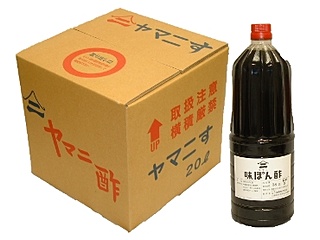 We will develop and propose your products!
We undertake small-lot production that is difficult in terms of cost!
We will help you commercialize the sixth industry!

Small-lot production (from around 100 liters) is possible to meet the diverse needs of our customers.
If you let us know what you would like, we will handle everything from prototyping, manufacturing, to delivery.
If you find the production of liquid seasonings such as sushi vinegar, processed vinegar, sauces, sauces, etc. to be troublesome, time-consuming, or cost-prohibitive, please feel free to contact us!
We also help commercialize agricultural products.Feel free to contact us!


We manufacture health- and beauty-oriented custom-made Drinking Vinegar!

How about your original "Drinking Vinegar"?
From the dessert-type "Drinking Vinegar" that makes use of fruit juice to the new "Drinking Vinegar" that contains health and beauty ingredients, there are many possibilities. Please feel free to contact us!


■ Examples of custom-made seasonings for commercial use ■
Boiled octopus seasoning, grilled fish sauce, plum dressing, mixed sushi, Kansai-style mixed sushi, Kanto-style mixed sushi, kimchi-flavored seasoning, wasabi-flavored seasoning, fish vinegar, seasoning for small skin pickles, or vinegar, ponzu sauce, crab sukiyaki soup stock, conger eel sauce, kabayaki sauce, drink vinegar, soy sauce for sushi, firefly squid pickled seasoning, white shrimp sweet and sour seasoning, octopus seasoning, Namasu seasoning, dumplings Sauce, siomai sauce, soy sauce for soy sauce, seasoning for mozuku vinegar, seasoning for steamed egg custard, yuzu ponzu sauce, sea cucumber seasoning, seasoning for Hachimanmaki, sauce for grilled rice balls, sauce for potapota-yaki, Drinking vinegar, fruit vinegar, onion dressing , salted ponzu sauce, black vinegar drink, pickled shallot sauce, okonomiyaki sauce, yakisoba sauce, takoyaki sauce, Worcestershire sauce, pork cutlet sauce, etc.

■Original "Drinking Vinegar" track record■
Mandarin Orange Drinking Vinegar, Deep Sea Water Drinking Vinegar, Dates Vinegar, Beauty Ingredient Drinking Vinegar, etc.

------------------------------------------------------------
≪Yamani Vinegar Co., Ltd.≫
TEL: 059-225-2321
Person in charge: Nishio, Iwahashi
Email:herePlease contact us
------------------------------------------------------------
Transaction flow
2. Contact and meeting from our company
Once we receive your inquiry, our representative will contact you within 3 business days.
We would like to discuss the content of your inquiry and your request.
▼
3. Sample request
Based on the contents of the meeting, we will manufacture a sample at our company and make a proposal.
▼
4. Negotiation
We would like to discuss business with you about the sample that we made as a prototype, including an estimate. If this is your first transaction, we will discuss the terms and conditions of the transaction with you.
▼
5. Orders and product manufacturing
If you are satisfied with the contents of the sample, we will place an order and start manufacturing.
▼
6. Delivery
Depending on the product, it will be delivered in about 1 week after the order is placed. For Drinking Vinegar, etc., it takes about 1 to 2 months if fermentation and maturation is required.