Drinking Vinegar with Yuzu and Ginger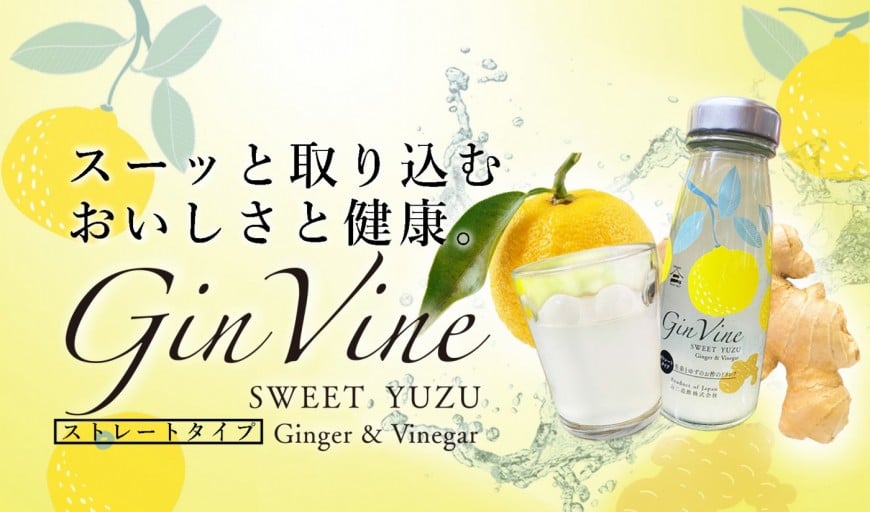 Ginger and Yuzu delicious vinegar drink "Gin-Vine"[Straight type], that can be drunk as it is, is now available!
Yamani Vinegar, founded in 1887, brews using traditional methods!
Made with 100% Yuzu from Mie Prefecture!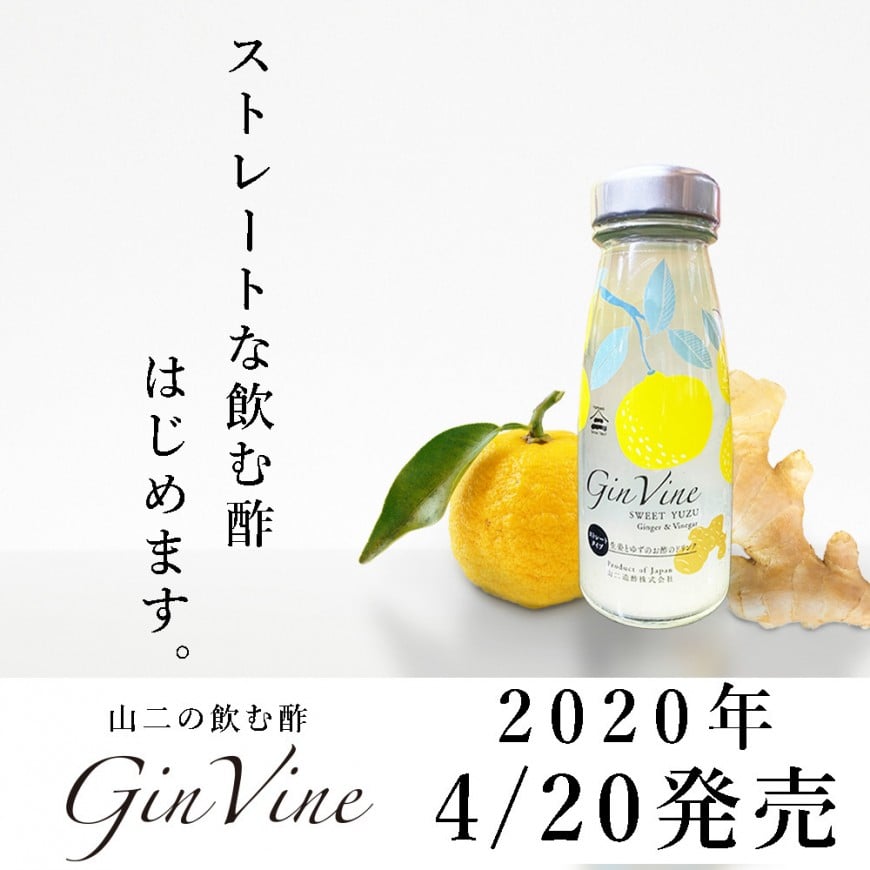 "Gin Vine" means "ginger (Ginger) + vinegar (Vinegar) Of
[Delicious to the body] Drinking Vinegar brand
It is a specification that allows you to easily drink and cap again when driving on holidays or busy mornings.
In addition, since it is a straight type, there is no need to dilute it with water.
The power of vinegar (makes it easier to get rid of fatigue) (makes blood smoother), etc.
In order to lead a healthy life, we have pursued the simplicity that is easy to adhere to your life.
Features of Gin Vine SWEET YUZU Straight
1. 180ml cap type that is convenient to carry
When driving to sightseeing spots, or during morning commute time, lunch, and other activities
, if you enjoy delicious and health-conscious vinegar,
this vinegar is now available in a portable bottle with a convenient cap
.
2.Uses carefully selected domestic materials
Using the traditional brewing method that continues from 1887, our over 100 year
old brewery contains a long-term brewing process
for Yamani Vinegar's specialty aged
vinegar, which is the base
along with Yuzu from Mie Prefecture and ginger from Kochi Prefecture. You'll want to drink this
product daily for its mellow palate.
3. Take 20ml of vinegar in one bottle
For every 1 day, taking 15 ml or more of vinegar will relieve exhaustion
, improve blood flow,
cuts stomach fat, and protects the body from various diseases
all of which can be said to be [good for the body]
.
"Gin Vine SWEET YUZU Straight"
You can take 20ml of vinegar in one bottle,
It can be used as a simple healthy drink.
Overview of Gin Vine SWEET YUZU Straight
Name: Vinegar drink with yuzu juice
Ingredients: Yuzu vinegar concentrate (domestically produced (yuzu juice, apple cider vinegar)), refined bee
Honey, ginger/spice extract (soybean)
Contents: 180ml
Expiration date: 6 months from the date of manufacture
Storage method: Store at room temperature, avoiding direct sunlight and high temperature and humidity
Manufacturer: Yamani Vinegar Co., Ltd. 2476, Tsuoki, Akogimachi, Tsu-shi, Mie