Company profile
The company building appearance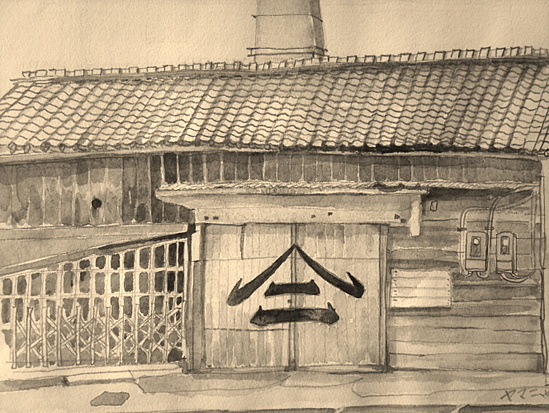 President greetings

The dining table which is full of a smile overflow, hearts!

The Yamani Vinegar through a product including "Vinegar"
I contribute to the rich, healthy eating habits brightly!


Hello!
Welcome came over to the homepage of the Yamani Vinegar.
We run the brewing of the Vinegar in Tsu-shi, Mie from 1887.
"Fermentation, the slow aging are characteristics of our brewing slowly and carefully".
With the Sake Kasu、(pressed)Sake Cake which I had from local Sake Brewery as a main material,
I die and a hit is mellow and makes "the easy Vinegar" which mellowed of the acidity.
In late years needs of the customer become various and perform a new challenge with the change of the times every day even if I do it with us and produce the production of the source and various liquid seasonings.
I think about the thing which you must change that you must not change it without contenting itself with history and aim at the company which always challenges a chest daringly in Venture spirits at the time of the founding.
And, through our product, the dining tables of the customer overflow with a smile,
I contribute to the rich, healthy eating habits brightly.
●Blog of the president is this for the fifth generation!

Company profile
| | |
| --- | --- |
| ■Company name | Yamani Vinegar Co.,Ltd |
| ■The location | 〒514-0811 2476, Tsuoki, Akogimachi, Tsu-shi, Mie |
| ■Phone number | 059-225-2321 |
| ■FAX number | 059-225-2302 |
| ■Representative | President Kuniaki Iwahashi |
| ■The establishment date | Founding: July 20, 1887 Establishment: October 4, 1925 |
| ■The number of employees | 13 people |
| ■Duties contents | (1)Vinegar, source, production, wholesale, sale of the liquid seasoning (2)The Internet Mail order (3)Real estate lease business |
| ■Banker | Hyakugo Bank Head Office sales department, Daisan Bank Tsu Nanshi shop |
Company history
| | |
| --- | --- |
| ■18 2000 Kaei era year | I hold Shimada-ya in first Yasushi Iwahashi soldier of the Imperial Guard Ichishi-gun |
| ■18 2000 Meiji year | Two generations Shotaro |
| | I begin the brewing of the Vinegar in Shigeyoshi Iwahashi (the first generation), home shed of Iwata, Tsu-shi-cho, Mie for three generations |
| | "yamani vinegar" trademark registration |
| | A brewery is new in Akogimachi, Tsu-shi, Mie |
| | The brewery enlargement of Akogimachi |
| | The brewery enlargement of Akogimachi |
| ■1925 October, 1925 | It is incorporation in Yamani Vinegar Co.,Ltd |
| ■1929 April, 1929 | Four generations Seijiro Iwahashi second generation president appointment |
| ■1944 December, 1944 | One brewing storehouse collapses by the southeast sea earthquake of the Showa era |
| ■1949 January, 1949 | I increase the capital to capital 1,000,000 yen |
| ■1949 May, 1949 | I increase the capital to capital 2,000,000 yen |
| ■1949 October, 1949 | I take office as association of Seijiro Iwahashi whole country vinegar center society's chairperson |
| ■1955 March, 1955 | I take office as the Seijiro Iwahashi Tsu Chamber of Commerce and Industry president |
| | I take office as a president for the five generations Jiro Iwahashi third generation |
| ■1965 September, 1965 | I take office as a president for the Hiroyoshi Iwahashi fourth generation for six generations |
| ■1979 1979 | The yamanimanshon construction real estate lease work |
| | I increase the capital to capital 10,000,000 yen |
| ■1998 1998 | Mini-soy sauce bottling start |
| ■2007 2007 | Worcester sauce production start |
| ■2009 June, 2009 | I take office as a president for the Kuniaki Iwahashi fifth generation for seven generations |
| ■2013 2013 | Overseas market reclamation start |
| | A trust processing promotion part is new the sixth |
| ■2020 January, 2020 | The "Shippo Takara" trademark acquisition |
Traffic access
[address] 2476, Tsuoki, Akogimachi, Tsu-shi, Mie
[means of transportation] about 3-minute walk from / Emma Domae bus stop approximately 15 minutes on foot from JR Akogi Station
▼Please feel free to contact us