Employee introduction Miwa Nishio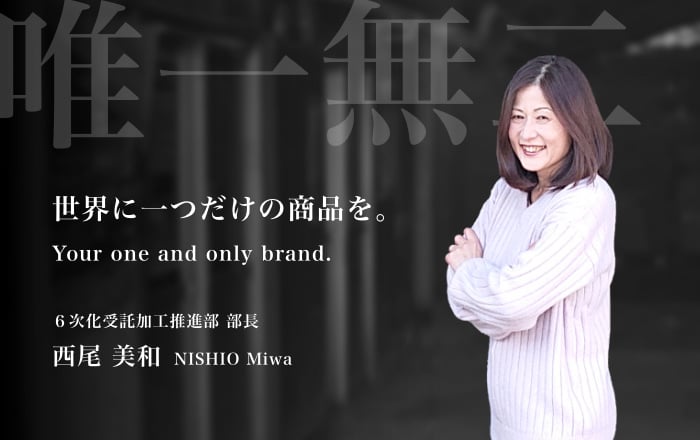 Interview
Feelings to work
I want to do a life that we become the same feeling and do not arrange fruit, the vegetables which a producer was brought up into carefully heartily one to a good product.
As I think that a producer bringing up knows a taste most, I have it tell me from a stage before entering the trial manufacture to be various and visit the request and make a product together……I take a form called this.
After that, I make use of the brewing technology that has been inherited from 1887 and make a good product, the safe product which you are particular about raw materials to use and can use in peace to a body using the Vinegar which is made simply because it is a brewing storehouse.
I do a help to make use of the characteristic of each fruit, vegetable, and to make an only product in the world.
The future prospects
I make various products using fruit, the vegetables of all the countries of the world, other products let alone Japan and am connected with producers, customers of the world in "made in YAMANI" and want to send health that it is delicious……I think of this.
Message to a customer
As for the fresh fruit, vegetables, natural nomamaga is the most delicious……Still if you become able to harvest it a lot and some forms are bad and are hurt and it is a form (artefact) that such a product is different in and can be pleased with a customer……It is my work that help with the thought of such a producer.
You are interested even a little, and please feel free to contact us if you want to hear a story.
I, Nishio loving eating a delicious thing and a happy smile ask.
I look forward to it anytime!