Gin Vine Sweet YUZU straight type
Vinegar Drink to be able to just swallow up of citron and ginger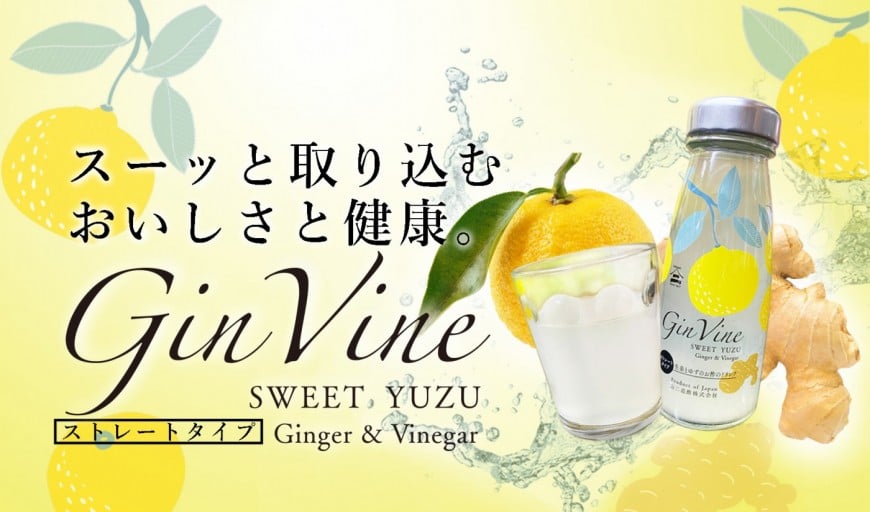 [straight type] that ginger and drink "Gin Vine Gin-Vine" of the delicious Vinegar of "the citron" can just swallow up debuts!
Yamani Vinegar founded in 1887 (Meiji 20) brews it by the traditional manufacturing method!
Use of 100% of triple regional citrons!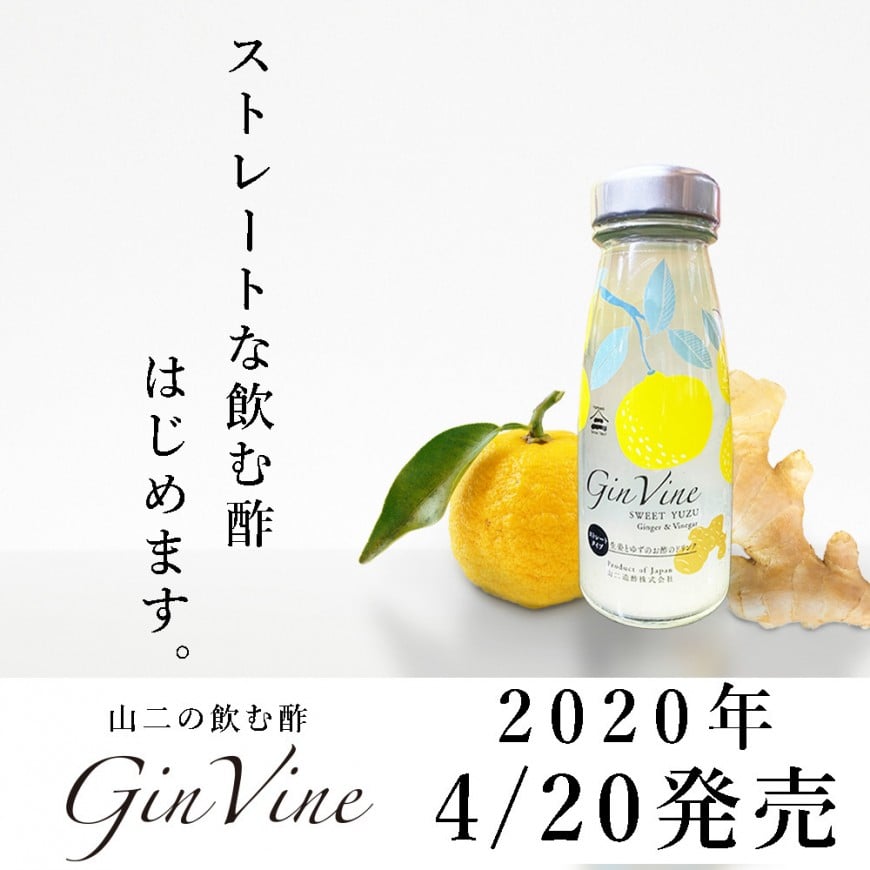 With "Gin Vine" of "ginger (Ginger) + Vinegar" (Vinegar)
[delicious to a body] It is a brand of the Vinegar Drink
It is the specifications that can drink it easily at the drive of the holiday and busy time in the morning, and can cap it again.
In addition, it is not necessary to dilute it with water expressly as it is a straight type.
As for power (I make it easy to take the fatigue) (with blood as a rustle) to show of the Vinegar,
I pursued the simplicity that was easy to adhere to a living to have you live a healthy life.
■Features of the Gin Vine SWEET YUZU straight
1.Cap type of 180 ml that is convenient for carrying around
I appea
red
in the
drive to a sightseeing spot, commuting time, the morning
which
had Vinegar drink for & health intention deliciously
including lunch
as the convenient bottle which could cap it to
carry it.
2.I use domestic discerning material
Is long using traditional brewing
in the vinegar storehouse which repeated history
more than
100 years having been continued since 1887
; spend time, and want to drink fermentation, discerni
ng Vinegar
of the matured Yamani Vinegar
using the citron which is from Mie to a base
, ginger from Kochi every day
;
died, and hit, and developed a mellow product.
3.I take in Vinegar of 20 ml with one
It
is said
that there is work that the Vinegar removes
fatigue by taking it in 15 ml a day or more
and to be silky and do a flow of the blood, and
to let a stomach be refreshing, and to
protect a body from various harm
[is delicious to a body]
.
"The Gin Vine SWEET YUZU straight"
can take in the Vinegar for 20 ml with one
and
can have you inflect as a simple healthy drink.
■Summary of the Gin Vine SWEET YUZU straight
Name   :Vinegar drink with citron fruit juice
Raw materials name :Citron vinegar concentrate (domestic production `(citron fruit juice, cider vinegar)), purified bee
Honey, ginger/spice extract (soybean)
Inner capacity  :180 ml
The expiration date :From a production date six months
Preservation method :I avoid direct rays of the sun, high temperature and humidity and save it at normal temperature
Manufacturer  :Yamani Vinegar Co.,Ltd 2476, Tsuoki, Akogimachi, Tsu-shi, Mie